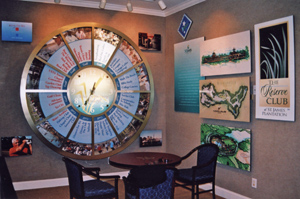 G
One of the showroom features is a custom designed and fabricated activities clock.
Each one hour section of the clock lists activities that occur during that hour, accompanied by a lifestyle photograph. As the hour hand reaches each time period, the individual section becomes illuminated for the duration of the hour, highlighting the activities and photo, and then switches off when the next hour arrives.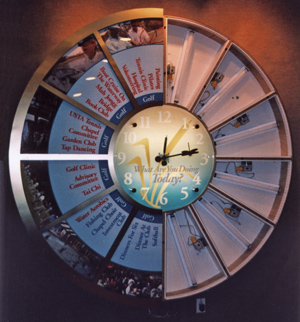 H
I
The backlit clock face features the cattails from the St. James logo, along with the question, "What Are You Doing Today?" The clock's hour hand is a cattail and the minute hand is a dragonfly.
Each section of the clock can be removed to update the text and photos, replace expired bulbs and set the internal timers when time zones change.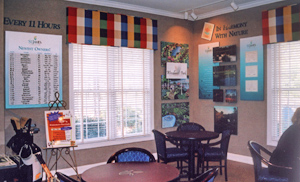 J
Each wall section is composed of a collection of type panels, 3-D wall typography, graphics and photographs that illustrate various aspects of the St. James Plantation experience: a general geographical overview, area amenities, St. James' private beach and the beach lifestyle, the environmentally friendly way in which the community has been developed (winner of 3 National Audubon Society awards), St. James' economic stability, the multiple private golf courses on property, the custom building program, and other amenities specific to St. James Plantation.